Many individuals have resorted to digital assets as a shield against inflation from fiat currencies. Thus, they can hold a significant advantage when the fiat currency becomes weakened in a bad economy.
Fear Of Uncertainty Is The Primary Motive
Russia's ongoing assault against Ukraine has caused many more people to convert their fiat to cryptos as there is increased uncertainty surrounding fiat currencies globally and not just Russia's fiat currency (the Ruble). Thus, the BTC/RUBL trading volume has reached a 9-month peak, causing a massive decline in the value of the Russian Ruble.
Popular Paris-based on-chain analytics firm, Kaiko, recently reported a huge rise in the volume of Ruble (about 1.6b RUBL) being converted to BTC. The report further stated that this amount is the highest since May last year.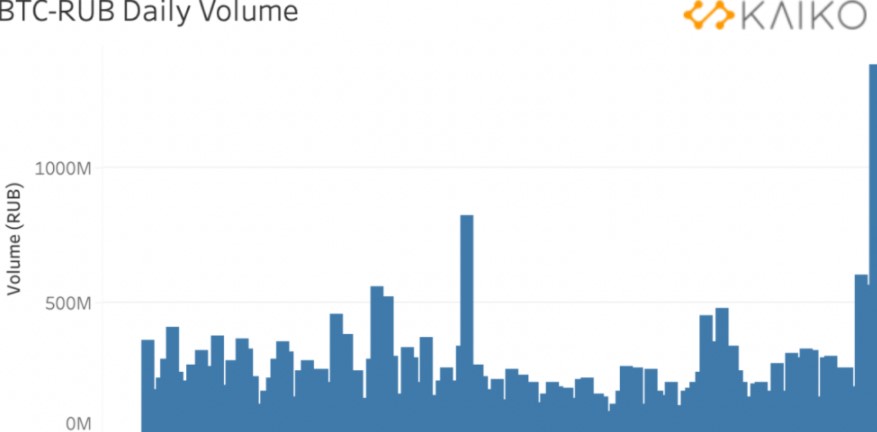 BTC/RUBL daily trading volume. Source: Kaiko
One of Kaiko's top analysts, Clara Medalie, opined that most of the Ruble to BTC transactions were done through the Binance exchange platform. The report also noted that there had been a surge in BTC-Hryvnia (Ukraine's fiat currency) trading volume, but the surge isn't up to that which was recorded last October. However, most Hryvnia to BTC transactions have occurred on Binance and LocalBitcoin crypto exchange platforms.
Spike In Ruble And Hryvnia To USDT Trading Volume
Madalie further remarked that there has also been a spike in Ruble and Hryvnia to USDT trading volume. According to Kaiko's analysis, trading volume for USDT/RUBL rose to nearly 1.4B on Thursday, indicating a 7-month peak.
Many Russians and Ukrainians are moving their fiat to safe-haven assets such as USDT and BTC to ensure that any economic fallout (especially sanctions from the United Nations and NATO) from the ongoing war does not affect their spending or purchasing power.
Many digital asset owners usually buy USDT because it is a stablecoin pegged to the dollar on a 1:1 ratio and is less susceptible to the volatility that affects other cryptos. As of this writing, Bloomberg data records show that the Ruble is being exchanged with the USD at the rate of 119 per USD, a near 30% further decline from last week when the Ruble exchanged at 91 per USD.
Various Sanctions Against Russia
Asides from cryptos and stablecoins, a few Russians are also converting their fiat Ruble to Gold, Swiss Francs, and other less popular safe-haven assets. This past weekend, the US and its cronies took certain disciplinary measures against Russia. One of such measures was a restriction of Russia's accessibility to swift (society for worldwide interbank financial telecommunication). Swift is the communication bank for global financial transactions.
The EU also took a disciplinary measure against Russia by preventing its apex bank from performing overseas transactions to support its banks. There are now unconfirmed reports that Russia's apex bank plans to restrict non-residents from selling securities. Russia isn't backing down on its assault against Ukraine despite the sanctions. Last Monday, Russian President Vladimir Putin ordered the nation's nuclear war force to be red-alert for another attack on Ukraine.